Before I go on, I'll just put in what I forgot to say in the previous blog. The winner of the contest gets a free ticket to go with the hosts of TKTV to Paris for a few days in July for an event (it could be a convention?), and the winning piece will be worn by Aoki Misako (popular KERA model) in a japan fashion show. Something like that.
So today was the deadline for my OP project.
But.
I couldn't turn it in.
Even after all the immense sacrificing I did (not being able to ship any customer packages, barely doing any school work unless I was actually in school, not coming online [my internet was even cut off for like two days and I didn't even know]), not even replying to text messages from friends, I could not finish it in time. It turned out I couldn't use Sayo's machine after all cause she was busy with her own school stuff, and the school machines are out of the question-- it takes forever to set them, and by the time I'm into the sewing groove it's time to leave. There's also the high chance I would have chosen a machine that has totally messed up thread tension cause the idiot using it before me was an 18 yr. old with stupid clumsy paws and no knowledge of correct usage of a sewing machine.
Luckily, by the grace of all things good and holy, I actually got to borrow a machine from
bucktick
. Thanks again, Rebecca. (TvT)
But the next problem was one that I didn't even know was there until it was too late: time management. I got the machine on Sunday, but didn't work on the OP that night because I was too tired from staying up the day before doing patterning (which I really should have done
days
before, like around when I made my last post on here. Stupid idiot kei). On Monday night, I just slept, thinking I'd have plenty time to work on it on the other days. On Tuesday night, I was curled up in bed with period pains, but woke up early in the morning before school to finally get started on sewing. On Wednesday night, I did some more, which sadly did not last long because I fell asleep while working, around 2 am. And last night, was pretty much a complete repeat of Weds. And why didn't I work in the day, you ask? School. I got home around 7pm on average, did some home work, started sewing around 12am, and then, I fell asleep pretty soon after that.
There was so much filming too. By the end of the week I wanted to punch the next camera I saw. On Weds, Shin came to film me working on the OP in my school atmosphere. On Thursday, I was filmed in my room sewing. This one I didn't mind so much cause I want my lovery room shown on TV anyway :> Then Friday (today, the due date of the project), filming of a presentation of my piece in front of about 30 lolita girls who were gathered at a gallery for a Baby event, who were there to vote on which piece they liked. Did I mention I didn't finish my OP?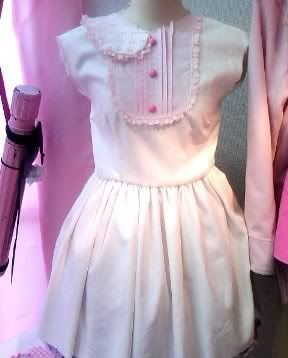 As you can see, it's really still in its early stages. Whereas my competition (which is actually just one girl named Yoshie) presented this beautiful elaborate gold and brown and raspberry dress. Needless to say, it was incredibly embarrassing. I was on the verge of tears for the entire night. And on top of that, being asked things by the camera man like
"So kei, why didn't you finish your project on time?", "You were so sure you would make the deadline, what happened?", "Yoshie has finished hers in the same time you had; what do you think about that?"
. All I could think (but didn't say it of course) was "( -____-) I want to go home. I really regret participating in this. I had enough stress in my life already." I'm surprised I didn't end up crying on camera.
However, the presentation itself wasn't a complete train wreck. Luckily, I took along my sketch of the OP, so during my speech, I talked about the challenges I had when making it that took up a lot of my time, and described what I'd be adding to the OP, and about my theme. The girls were actually quite friendly, and asked a lot of interested questions, so the more I got to talk about it, the less anxious I felt. Still, the questions from the cameraman really cut. Another was "Don't you think it will be unfair to Yoshie that you get extra time to work on your piece after this before the next judging? She finished hers in a small amount of time." So I said "I really don't care about winning. I just want to show people my finished piece, because I'm proud of my design and want others to see my mental image made into a real object."
We don't yet know when the next judging will be (I think it will be by well-known designers this time-- I heard Mana will be one of them), but until then I have to finish my piece. I also have to re-vamp some things. The sizing is weird and some parts don't fit each other when I sew them together. This is what I get for making my own patterns.
By the way, I thought I'd mention that Yoshie's mom made her entire piece. Yoshie herself designed it, but the construction was all done by her mother. I designed mine too, but had to battle Time to try to make it in under two weeks by myself. Wanna talk about unfair? I think that's unfair. I'm cool with Yoshie's mom making her dress, but I don't think I should be made out to be some kind of lazy fool because I couldn't finish mine. I had no one to make my dress for me.
I'm genuinely afraid. I don't have enough confidence in my seamstressing to make this perfectly. I regret getting into this in the first place.
I leave you with...
Today's fashion snap: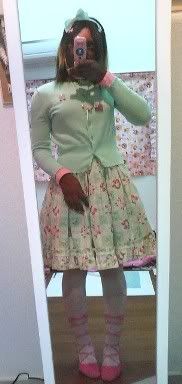 Wearing some of like, the only Baby I have